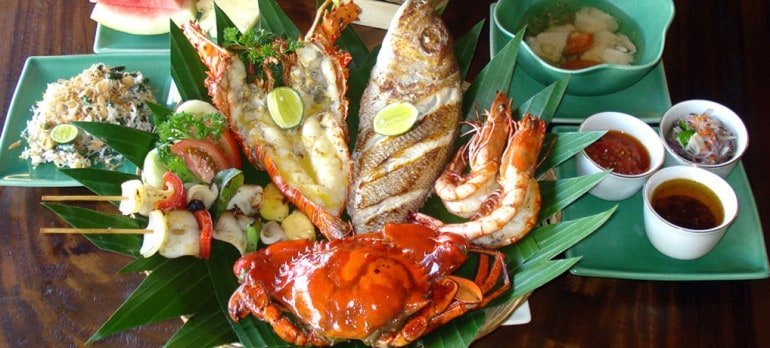 Jimbaran New Year's Eve Dinner
On 31 December 2016 we'll offer a few special New Year's Eve packages you may want to choose from. These packages are not compulsory; you are free to order a la carte as well (but then we will not offer transportation).
If you opt for one of our special New Year's Eve packages you are entitled to free pick-up & drop-back from/to your hotel in Nusa Dua, Jimbaran, Kuta, Legian, Seminyak or Sanur. Consider this: If you come and go by your transportation, we give you 10% off on your package.
Transfer on that day will be on sharing basis; that means that our car could collect/drop
one or two more parties on the way from/to your hotel. Usually, we appoint one car per reservation but New Year's Eve is a different situation given the higher number of reservations and very busy traffic.
If you prefer to come by your transportation, you may want to have a look at this map.
As every day we will have graceful Balinese dancers to entertain you, the time between the dances our sound system runs some background music. In general, as always, we will have a rather relaxed evening, no big show or special events.
On 31 Dec the sun sets at 18:41. We'll operate until a bit after midnight.
End of December is the peak of the rainy season; but the good news is: In the case of rain we can give you shelter and evacuate you to our roofed sea terrace or indoor, just in case.
At midnight there will be countless fireworks around Jimbaran bay you can watch from our location. There is also a firework lady roaming on the beach selling rockets and crackers; she even fires them up for you. And there is also a roaming band on the beach you can ask to play for you (against a tip, of course). Band and firework lady are not affiliated with us. You may ask our staff to assist you in making arrangements.