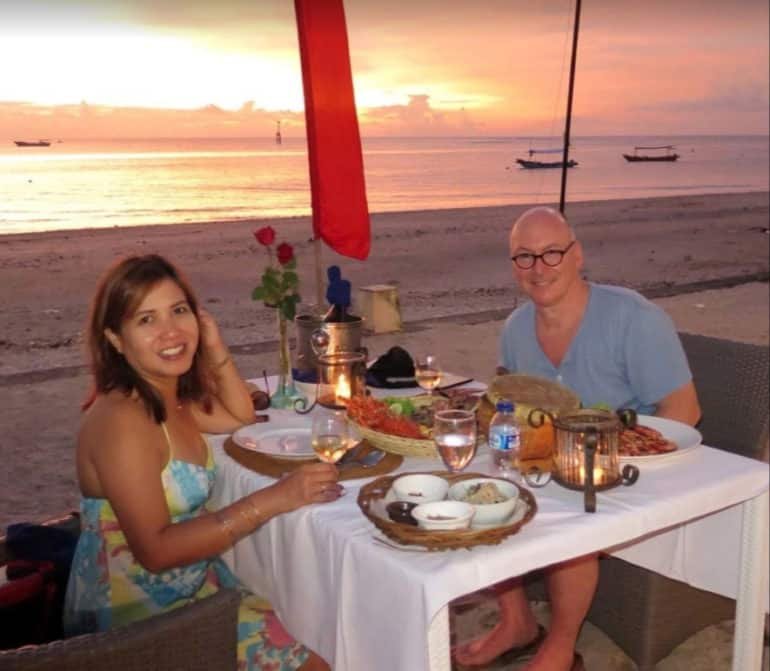 Nice comment. Thank you!
"Simply delicious!"
We have been very often in Bali for holidays but mostly stayed in Ubud. This time we stayed 5 days in Ubud and 2 days in Ungasan, and I insisted that we go to Jimbaran beach to eat grilled fish (ikan bakar) that I love so much. It was not easy to find the "right place" since we had a bad experience before at beachfront cafes in Jimbaran. Luckily we had the right choice this time!
The restaurant setting was very good, the tables were set no too close to another. It has an advantage that the restaurant is at almost the end of Jimbaran bay, closed to thr airport actually, so unlike the typical cafes in Jimbaran beachfront, it is much quiter without interruption of souvenir vendors and passing tourists.
The food was very very tasty, we orders a set "Seafood Maharani" package with grilled lobster, red snapper and cumi-cumi (squid) skewer, plus a portion of grilled jumbo prawn. All were super delicious, and the various sambals (chili sauce) were also very tasty. Well for us the sambal was not spicy enough so I asked for another portion of sambal as we finished all the sambal before we finished the food And by the way, the seafood were fresh (living in aquarium befor they prepared), very well prepared so the meat were juicy and not dry.
The service was excellent, the waiter was very attentive, he for example offered mosquite repellent as soon as he recognised that I was scratching my bare legs.
It was also not a problem at all to swap the item on the menu, we asked for spring roll as apetizer instead of soup, and we asked for asinan (a kind of fruit salad in spicy venigar) instead of fruit platter. The restaurant manager (or the owner? Not sure) came also to great us at our table.
Other plus point is that they provide free transportation service from/to your hotel provided that you spend minimum 800k IDR and your hotel is in the area of Kuta, Jimbaran, Uluwatu. We actually stayed in Ungasan, about 30 minutes drive from Jimbaran, but they provided that service for us too. And the driver came very punctual at our hotel, which is not always the case in Indonesia.
I can recommend this place for all balinese-style seafood lovers!