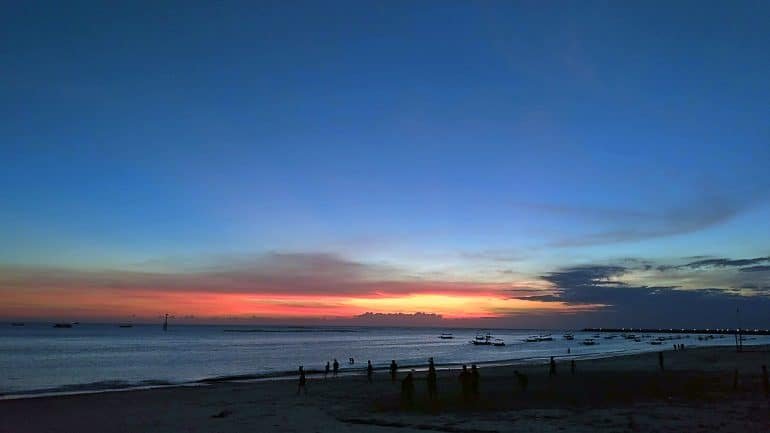 Beach and airport runway
Kelan & Pantai Kelan / Kelan Beach
Kelan is part of Tuban village, district of Kuta, Badung, Bali, Indonesia, located south of the airport Ngurah Rai and north of Kedonganan. Desa Adat Kelan has two banjars: Banjar Kelan Desa and Banjar Kelan Abian with a total of approx 400 families, most of them traditionally working as fishermen and farmers, nowadays some also in the tourism industry and at the airport.

Pier and boats
Pantai Kelan / Kelan Beach is at the northernmost section of Jimbaran Bay, above the fish market. The other two sections of Jimbaran Bay are called Muaya Beach (in the very south) and Kedonganan Beach. By the way, Kelan Beach was also the home of Sharkey's seafood restaurant. Unfortunately, Sharkey's is no more.
Access via Jalan Segara Madu (Segara Madu Street), Jalan Taman Sari, or just walk on the beach from Kedonganan via the fish market to Pantai Kelan.

Sunset
Since 2011 you'll find a few new restaurants at Pantai Kelan, the newest addition to the famous seafood cafes at Jimbaran Bay. One of them is Bawang Merah Beachfront Restaurant, serving fresh & live seafood (depending on availability) and also non-seafood (duck, chicken, beef and vegetarian). Have a seat on the restaurant's shady terrace or on the beach with your feet in the sand and enjoy a panoramic view of Jimbaran Bay and the colourful fishing boats in front of you. Perfect for a romantic sunset dinner or candlelight evening.

Absolute beachfront dining at Bawang Merah Beachfront Restaurant, Pantai Kelan